ABOUT: " It was February 2017 in Fatima, Portugal when a Book Lover wrote about the dream of having a bookstore. To this day, The Book Wardrobe's story continues. One summer afternoon in July 2017, something magical happened when the unsuspecting Book Lover stepped inside the 2nd floor of the Robinson-Bray heritage house: the photography studio office suddenly transformed itself into a charming bookshop. It was like entering a familiar wardrobe leading to a secret space with lots of natural light, a focal wall of centuries-old bricks, and shelves stacked with colourful spines. The Book Lover serendipitously imagined a walk-in closet of stories."

PRICE RANGE: $-$$

SOCIAL IMPACT: This bookstore is in Mississauga, Ontario, and is AAPI (Asian American Pacific Islander) owned and operated. To find other Asian run bookstores, check out this handy list.

WHAT WE LIKE: I've only browsed through the cocktail books listed so far, but there are SO man. Most are under $20 and they have some really cool concepts. Honourable mention to Booze Over Broadway a cocktail book for theatre lovers.
ABOUT: This female owned and operated store carries a variety of barware and accessories as well as the essential non-alcoholic necessities of any good cocktail: bitters, olives, syrups – you name it.

PRICE RANGE: $-$$

SOCIAL IMPACT: They carry products from all over, including a lot of locally made ones – great way to support your local community! Plus, some of their barware is vintage, which helps keep things green!

WHAT WE LIKE: They have a beautiful selection of products and very knowledgeable staff. I've often gotten friends gifts from here and it's my first stop for ingredients if I'm looking to try out a new cocktail recipe.
ABOUT: "The Shameful Tiki Room Toronto is an extension of the popular Vancouver location. It is located in the trendy up & coming Parkdale neighbourhood of Toronto, Ontario. Like its counterpart there is no fanfare from the street but upon entry you escape into another world.
Similar to the Vancouver location, Shameful Toronto offers an extensive exotic drink menu accompanied by fabulous dishes from the kitchen including Crab Rangoon, a truly vintage Tiki side plate made famous by Trader Vic himself!"

PRICE RANGE: $-$$

SOCIAL IMPACT: Just a great local bar – tip your servers and bartenders well! It's been an especially tough year for those in service industries.

WHAT WE LIKE: They make DELICIOUS drinks. Great for if you want a Hawaiian vacation and can't afford one – just close your eyes and sip away.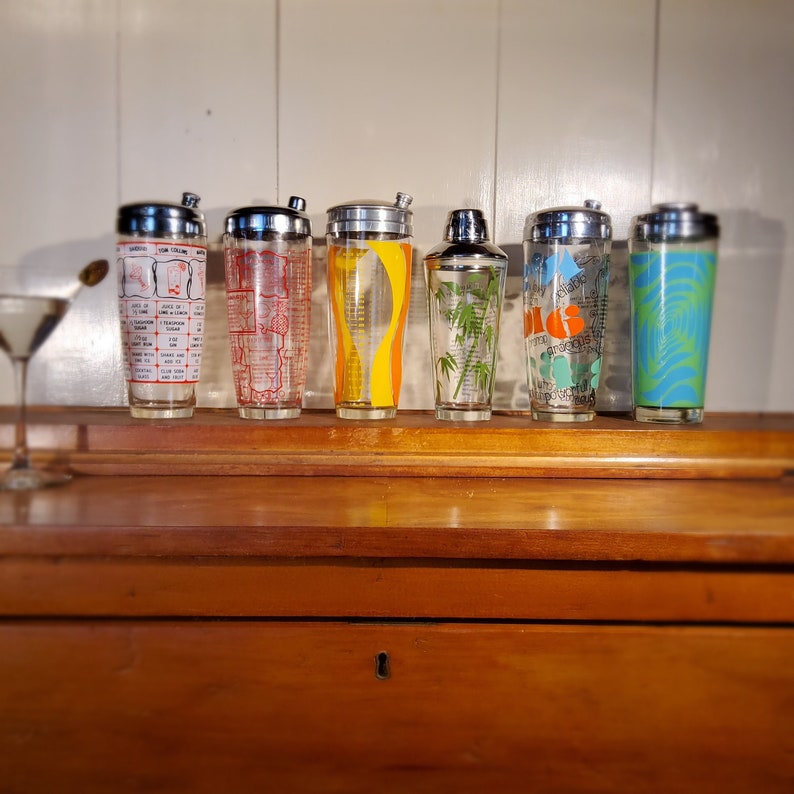 ABOUT: Unique vintage and antique finds via Etsy.

PRICE RANGE: $-$$

SOCIAL IMPACT: Sourcing secondhand is always encouraged, and this comes from a female-run shop in Cambridge, Ontario.

WHAT WE LIKE: These glass cocktail shakers are super fun. I've got a similar one I inherited from my Grandpa that sits front and centre on our old bar. Gift as is, or fill the inside with a mini bottle of booze and some garnish for a (almost) ready-made cocktail!
5. Classic Looking Spirits:
LCBO
ABOUT: There are dozens of brands, new and old, that have beautiful vintage packaging, like the deco-inspired Tanqueray No. 10 shown above. Wander the aisles of the LCBO and you're sure to find something pretty in each section.

PRICE RANGE: $-$$$$

SOCIAL IMPACT: Well, the pretty ones are usually in glass bottles! Which is better than plastic. But aside from that, not much for this one.

WHAT WE LIKE: I'm not much of a drinker, but I love the look of a stocked bar, and there are some gin brands especially whose bottles I'm more interested in than what's inside. When the drink is finished, you can keep the bottle on display! Or, give us a shout – we can always use classic looking ones for props in our shows!
Have something you think should be on our list?
Let us know in the comments.