ABOUT: "Paul's Boutique buys, sells, trades, rents and consigns the finest in vintage musical instruments, amps, effects and recording equipment."

Run by Paul Babiak, he writes: "After spending seven years in San Francisco and Los Angeles playing in bands and selling vintage guitars, I came back to Toronto in 2000 to open my own shop. I try to specialize in unique and funky gear but occasionally I'll run across some nice classics!"

PRICE RANGE: $-$$$

SOCIAL IMPACT: We always support buying vintage and local – sustainable in many ways.

WHAT WE LIKE: I don't know a lot about instruments, but the stuff Paul stocks looks super cool. People like Paul who specialize really know their stuff, and I feel like even those of us who don't really know what we're looking for could find what we want with his help.

ABOUT: "We sell new and used vinyl records and CDs, focusing on Alternative, Electronica, Jazz, Reggae, Roots, Afrobeat and other great music. Book lovers will adore our used book selection, which specializes in Literature, Philosophy, Art, History, Political Science, Graphic Novels, Cookbooks, Kids' books and more. Explore a new world of wonderful music, literature and culture. New arrivals every day!"

PRICE: $-$$

SOCIAL IMPACT: This is one of those Toronto staples, She Said Boom has been around forever because they stock quality stuff. Once again, buying local and buying vintage keeps our community strong and saves stuff from landfills!

WHAT WE LIKE: They have a HUGE assortment of stuff, and last time I was in there the person I talked to was very aware of their stock. They regularly get in new products so you can go weekly and browse away. For a gift, if you don't know what they like or want to try something different, pick up a few albums based solely on the cover – they can hear some new tunes & if they don't like them, at least they've got some artwork for their walls!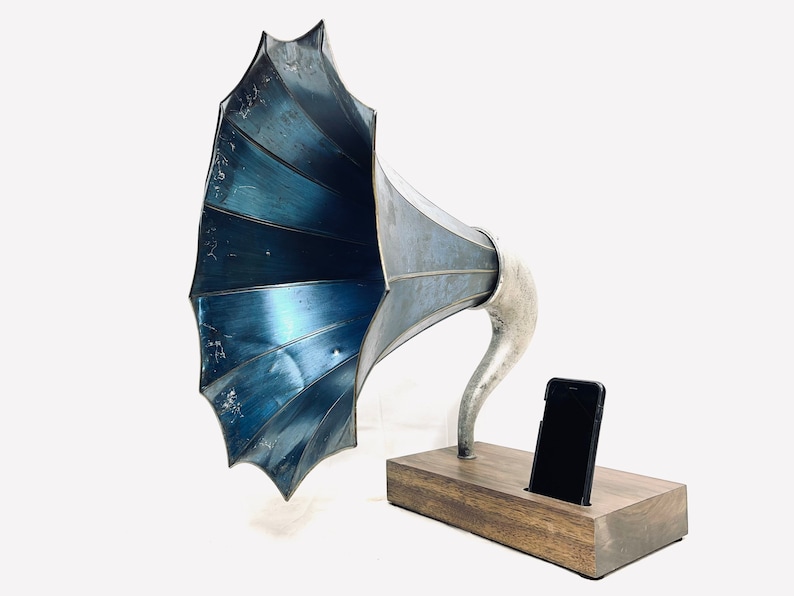 ABOUT: These simple speakers work in the same was as a megaphone, amplifying the sound that goes in through the small end and comes out the large. Your phone is placed into a base so that the speaker on the bottom sends its sound through the box and through the horn. The first place I saw make these was ReAcoustic, and theirs are beautiful, but pricey. If you check on Etsy you'll find some cheaper versions that work in the same way, but use less decorative horns.

PRICE RANGE: $$-$$$

SOCIAL IMPACT: Reusing vintage materials, often scrap pieces of wood, and they don't require any power – very green!

WHAT WE LIKE: They are so fun. I love the look of old gramophones but admittedly they aren't very practical. Honestly, for years I saw the old horns come up at auction and thought, gee, I need to think of something to make with one of those, so I was pumped when I first saw these. Good for a party if you throw on someone's playlist, and it looks a lot nicer on a shelf than most iphone docks.
ABOUT: "A home for Toronto's (GTA) events, photos, shops and shows that celebrate the vintage/retro lifestyle. We want to inspire you to feed this community and get out and meet others who love all things vintage/retro!"

PRICE RANGE: $-$$

SOCIAL IMPACT: Varies depending on event.

WHAT WE LIKE: Since events are always changing I'm just linking to the best place to hear about all vintage music events in the city – the Toronto Vintage Society. They post about concerts, swing dance nights, all sorts of things that would make a lovely gift or night out. You can support local artists and meet like-minded people.
5. A Walk Through Toronto's Music History:
Friar's Music Museum
ABOUT: "Toronto's celebrated music history is now on permanent display in the free Friar's Music Museum™, with curation rotated twice a year!"

PRICE RANGE: Free! Maybe grab a drink before or after?

SOCIAL IMPACT: This museum is helping preserve a small but important part of our art history. Admission is free but I'm sure donations are welcomed!

WHAT WE LIKE: I love local history and really specialized exhibits. Toronto is often referred to in how it compares to other bigger cities, like NYC or Chicago, but we really do have a culture all our own and I think it's important we all know that.
Have something you think should be added to our list?
Let us know in the comments.