ABOUT: These Toronto staples have a ton of stock that is constantly changing, so it's worth dropping by – or at least checking their site – a couple times a month. Most of their vintage is newer (think 70s-90s) but they do get older pieces as well. They carry a lot of streetwear looks and often have a wide selection of sports jackets, both from major teams like the Yankees, and smaller, local or college ones, like what's shown above. Given their cut, varsity jackets make a great unisex gift, and you often find them in a wide range of sizes.

PRICE RANGE: $-$$

SOCIAL IMPACT: If you're someone who likes the idea of fast-fashion, but realizes how horrible it is for the environment, check these guys out. You can get a new look whenever you like without adding to the growing amount of textile waste rapidly filling up our landfills. When you're done with it, donate it back! Local business selling vintage, good things to support.

WHAT WE LIKE: They've got tons of very "wearable" stuff. While I tend to favour older vintage, a lot of the time the early 20th century pieces are a bit delicate, and don't lend themselves to regular wear. These guys carry sturdy things, whether because it's a bit newer or because it's vintage sports or workwear, which is great if you want something you can wear on a regular basis.
2. Vintage-Inspired and Reproduction Sportswear:
The Sport Gallery
ABOUT: "The SPORT Gallery draws its inspiration from the pioneering SPORT magazine, launched in 1946 to celebrate what its editors accurately anticipated would be the coming explosion of interest in the games people play in post-war North America.
Conceived by a trio of erstwhile Canadian sports writers with the acquisition of SPORT archives following the shuttering of the magazine in 2000, the gallery celebrates the rich history and artistry of sport.
Our gallery – in Toronto's Distillery District – bring the magazine to life with walls lined with our limited and open edition prints, vintage-inspired apparel, accessories, and books. "

PRICE RANGE: $-$$$

SOCIAL IMPACT: In non-COVID times this local business serves as a community hub as well. Their store/gallery features a high-end coffee bar, developed in partnership with Toronto's Pilot Coffee Roasters, that serves as a comfortable space to watch a game, sport documentary, and enjoy a great cup of coffee or specialty beer from Toronto's Left Field Brewery. The venue also doubles as an event space, with large fully automatic pull-out bleacher seating. They frequently feature SPORTTalks, SPORT Trivia nights, and games on the big screen. So you can help support a local business, keep team history alive, and meet some like-minded people.

WHAT WE LIKE: I don't even like sports and I love this store. I'm a sucker for authentic-looking vintage reproduction and I love seeing the history of things and so stuff like the Toronto Maple Leafs Team History Hat are very much my thing. You can gift your friend a reproduction jersey, a cozy toque, a cap, or you can treat them to a coffee and check out their beautiful gallery.
ABOUT: The Hockey Hall of Fame is dedicated to preserving the history of the sport and of those who play it. It opened in 1943, and a full breakdown of its history can be found on their website.

PRICE RANGE: $

SOCIAL IMPACT: The Hockey Hall of Fame is a registered charity and as with any museum, the primary impact is maintaining a record and sharing that history with the public.

WHAT WE LIKE: Trips to a museum are a great gift, and as Canadians, knowing a least something about hockey seems to be a requirement for citizenship. Gifts that are experiences are often more valued than those that are just a "thing", so showing your sports fan that you want to share in that interest with them can be a great present.

For a free, online museum experience, I highly recommend Myseum, where you can read "micro-histories" on local people and places, like professional distance runner, Tom Longboat.
4. Vintage Sports Memorabilia:
Flip Collect

ABOUT: "Located in Toronto, Flip Collectibles Shop comes well equipped with 30 years of closely tied market experience. We are your one stop shop for all types of sports and pop culture trading cards and collectibles.
The Flip suite of products include retail store and various collectible trading shows that happen throughout Canada.
We buy, sell and trade sports cards, memorabilia, investment collectibles, vintage pop culture items, and more! We are your premium source in Canada for high end graded sports cards and unopened vintage wax boxes, and we are also vintage wrestling specialists.
We offer same day curbside pickup and immediate delivery through all delivery channels."

PRICE RANGE: $-$$$

SOCIAL IMPACT: You'll be shopping local and buying vintage!

WHAT WE LIKE: They have a range of items, dates and prices, making it easy to find something to match your person, and your budget.
5. Sport-Themed Wall Decor:
Blueprint FX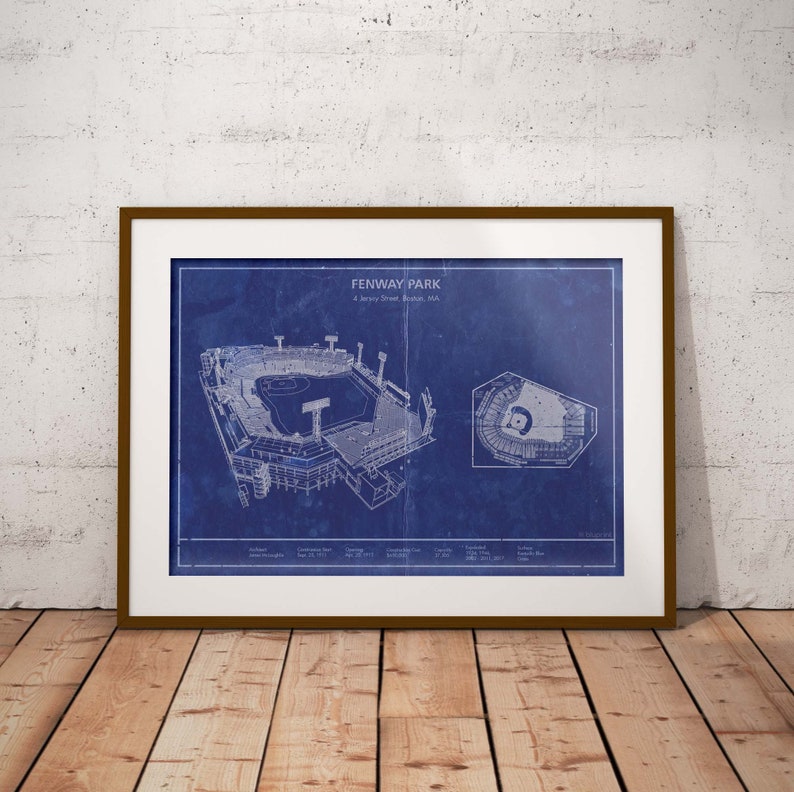 ABOUT: Based in Saskatoon, Saskatchewan, this online Etsy shop sells vintage-style prints of blueprints, sports and patent designs.

PRICE RANGE: $

SOCIAL IMPACT: It's a Canadian-owned small business.

WHAT WE LIKE: These are great for a sports fan who wants to reflect that in his decor, without having all the loud, contrasting colours that typically go with sports teams and their memorabilia. A good compromise if you're living with a non-sports fan.
Got something you think should be on our list?
Let us know in the comments.