ABOUT: "RESIST Clothing company (formerly Our Feather Clothing Co.) started in 2020. It was created by Mitch Gegwetch (Ojibwe/Anishinaabe and a member of Sagamok First Nation).
RESIST is a premium streetwear brand. We never cheap out on our inventory. We promise, our products are worth every penny, if you disagree, we offer a 30-day money back guarantee, no questions asked. "

PRICE RANGE: $-$$

SOCIAL IMPACT: "We are native owned and operated. Our company is certified by the Canadian Council for Aboriginal Business. A certification only obtained by proof of the company owner's status. View CCAB listing here.

Our mission is to build an authentic Native clothing brand that amplifies the presence and voices of Indigenous people.
We do this by creating unique designs on high quality garments that grab your attention and provoke thought or reflection.

We also stay true to our native roots and operate the brand 'in a good way' by sharing our profit with Indigenous charities that protect and uplift our Indigenous Communities."

WHAT WE LIKE: This streetwear brand features designs by Native artists with a focus on community and sustainability. Plus, they follow a unique "quadruple bottom line approach" that places importance on more than just profit. Bonus, the prices are really good.
ABOUT: "Gigi's House of Frills is a dream realized for owner…Gigi!
After many moons of dreaming of a shop full of all of the vintage inspired brands and one of a kind true vintage lingerie pieces, Gigi decided to make it reality!
Our little brick and mortar boutique is located in Gigi's hometown: Toronto. That's Ontario, Canada for those of you not familiar!
Gigi's little shop of frills has been operating since November 6th 2015, and there's no greater joy than bringing you the latest in retro and pinup lingerie, cosmetics and hosiery alongside all of the wonderful vintage treasures we find just for you!
We strive to offer you superb customer service and aim to make lasting relationships with our lovely clients!
Come see everything Gigi's has to offer, including local designers such as With Love Lingerie and Inspiration Vintage, world renown vintage cosmetics brand, Besame cosmetics and much, much more true vintage lingerie and hosiery!
You can visit Gigi's in Toronto at 731 Dovercourt Road, just south of Bloor Street West."

PRICE RANGE: $-$$

SOCIAL IMPACT: Lingerie is lovely, but a lot of the things you pick up at LaSenza or Victoria's Secret are cheaply made and not built to last. Plus, they tend to come in a very limiting number of sizes. Gigi's carries local brands like Inspiration Vintage as well as big ones like Dita Von Teese that are well-made and unique. She also carries authentic vintage, and you know how much we like to reuse!

WHAT WE LIKE: We love Gigi's. She was one of our sponsors for The Rear Window and did a phenomenal job helping us find the perfect under things for a true vintage look. This small local shop is female run by one of the nicest and most open-minded women you're likely to ever meet, so don't be afraid to go in and ask for help picking out a perfect little something – she has products for people of all shapes and sizes AND has a handy sizing chart on her website if you want to make sure there's something for you before you go.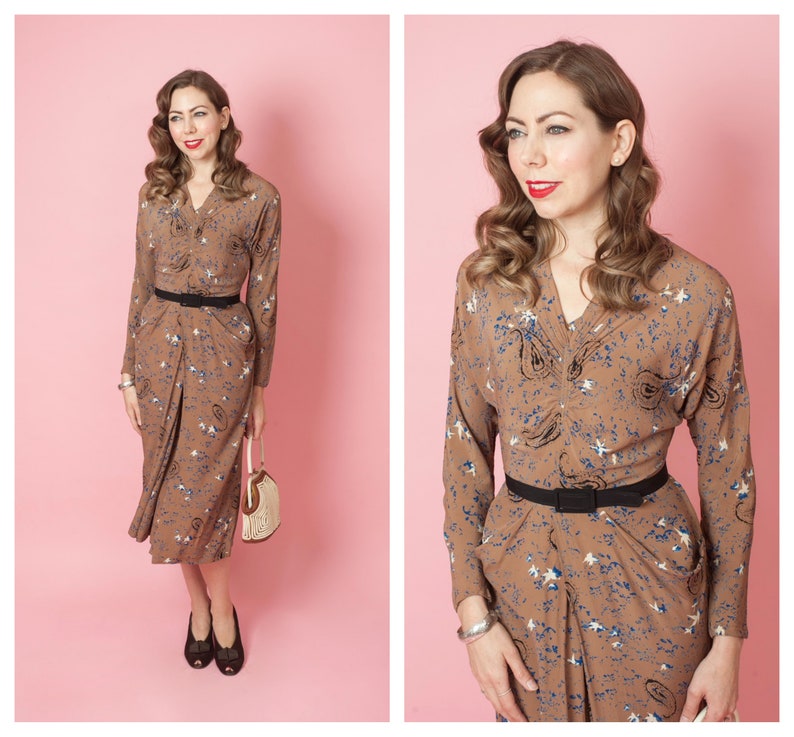 ABOUT: Curated vintage clothing from the 1910s-70s. You can shop online through her Etsy shop, or visit her in-store at 29 Kensington Ave., Toronto.

PRICE RANGE: $-$$

SOCIAL IMPACT: This female-run local small business sells beautiful vintage clothing and accessories – hurray for sustainable clothing!

WHAT WE LIKE: Everything she carries is beautiful. Seriously. I've been in dozens upon dozens of vintage shops and there's always something that you go, eh, kinda ugly, but not here. This woman has amazing taste, and while her prices are a little higher than some vintage stores in the city, they are fairly priced: everything is in great shape and very wearable.
ABOUT: "One of the best curated stores in Toronto. Gadabout is the old curiosity shop only better! It's filled with items from the late 1800s through the late 1970s. Curios, nostalgia, ephemera – oodles of paper, incredible vintage posters, tons of fabulous vintage clothing and accessories for men and women. Amazing textiles. It is a well-known haunt for wardrobe, prop and set decorators for film and theatre production. Gadabout does not carry furniture. If it's small, cool, enigmatic, it's probably in the store. The store contains a myriad of drawers all labeled and organized with items ranging from spats and opera glasses to slide rulers and office supplies. There's even a whole area of vintage housewares."
PRICE RANGE: $-$$$
SOCIAL IMPACT: Gadabout is another female-run store and it carries a bit of everything. Here you can get the kinds of vintage ephemera that so often are tossed in the trash, but that really are treasures. They rent items, so if you're doing a show or a film you can check them out for props.
WHAT WE LIKE: This place has everything. Really, I mean it. If you're a fan of "smalls" like I am, expect to spend several hours rooting through the dozens of drawers and boxes filled with papers, pins, pens – you name it. The clothing prices are a little higher than where I tend to shop when I'm dressing a show, but this is where I go when I need something good and fast: I can always leave with the thing I need.
ABOUT: "When Toronto fashion collector Alan Suddon unexpectedly died in 2000, the 10,000 piece collection he had amassed over forty-years, and that featured important nineteenth-century Canadian clothing and twentieth-century French couture, was purchased privately with a promise that it would someday go to an institution. However, much of the collection was sold off or destroyed via poor storage conditions over the next 15 years. The best surviving pieces were eventually auctioned off internationally with a small remainder selectively donated to Canadian museums, of which the Fashion History Museum received about 200 pieces. The collection that should have been Suddon's legacy and a museum's prize collection had been damaged, dismantled and all but forgotten." The Fashion History Museum has a long and detailed history which you can read in full on their website.

PRICE RANGE: $

SOCIAL IMPACT: As with any museum, the FHM preserves our history and makes it available to the public.

Their mandate is: "The Fashion History Museum connects the history of fashion with the world that created it. What we wear is a subconscious human expression, guided by habit and need, that reflects aesthetics, culture, identity, politics, economics, and technology. The museum collects, preserves, researches, and exhibits historical garments and accessories that illustrate these connections to better understand our past, present, and future."

WHAT WE LIKE: The beautiful outfits, unique exhibits and wide-range of clothes from different times and cultures.
Unfortunately his shop had to close due to COVID, but Jonathan "Kingpin" Hagey still has a whole host of gorgeous menswear and accessories, you just need to book an appointment to see it. His selection of high-end suits, shoes and accessories cannot be beat, and this man knows everything there is to know about vintage menswear (and about a lot of other fun vintage things too). It can be hard to buy something like a suit as a gift (at least if you're trying to keep it a surprise), but he has ties, cufflinks and other little accessories that would make excellent presents, or, for a truly special gift, you can hire him as a personal stylist. If you have a gentleman friend who loves vintage fashion but doesn't know how to dress himself, bring him to Jonathan. He will pick out something that suits your body, style, and pocketbook, all while giving you the history of the piece and all the new things he's picked up at auction. Be sure to follow him on Instagram – I for one eagerly await the return of his Hideaway.
Have something you think should be added to our list?
Let us know in the comments.